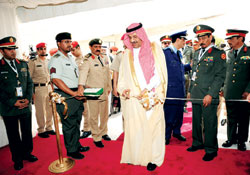 Under the auspices of His Royal Highness Prince Sultan Bin Abdul Aziz Al Saud, Crown Prince Deputy Prime Minister and Minister of Defense & Aviation and Inspector General, the first International Symposium on Air Defense(ISAD 2020+) was held at the Air Defense Forces Institute in Jeddah, Saudi Arabia, from 17-20 April 2011.

As the sole Media Sponsor for ISAD 2020+, Al Defaiya attended and fully covered this first time event in its June/July 2011 issue which coincided with the Paris Air Show.

Upon receiving this issue, the Public Relations Department of the Royal Saudi Air Defense Forces and the Saudi Ministry of Defense & Aviation and General Inspection, conveyed their special thanks to Al Defaiya for supporting this event.

Al Defaiya is truly honored by this official recognition stemming from the highest defense authorities in the Kingdom of Saudi Arabia.